Delivering India's most exotic fruit mangoes to the World
Crowned as the 'King of fruits', mango is savoured by people across the world. However, India and mangoes hold a special love affair from centuries ago. It's over 5000 years now since the first Mangoes were grown in India. And today, almost 45% of total mango production in the world happens in India.
A total of thousand varieties of mangoes are cultivated in India, but only 30 of them are used for commercial purposes, including the famous Alphonso mango that constitutes the majority of exports from the country. The irresistible taste of Indian mangoes automatically enriches its price in markets across the world.
Let us have a look at the different varieties of mangoes that are exported from India to overseas market

Totapuri Mango:
Totapuri Mango is a famous variety of mango which is primarily found in the state of Andhra Pradesh, Karnataka and Tamil Nadu. Large in size and golden yellow in colour, the Totapuri mango is easy to recognize because of its pointed end and thick skin. Totapuri mango comprises nutrients such as vitamins A, E, C & B5. They are known to be an excellent source of Vitamin A and C and its antioxidant enzymes provide nourishment to the body.
Totapuri mangoes carry 27% of India's total mango export value. These mangoes are exported in more than 40 countries around the globe which includes nations such as Saudi Arabia, UAE, Oman, Kuwait, Yemen, Sudan, Netherlands, etc. Along with the major exporters like Maharashtra & Tamil Nadu, the states of West Bengal, Delhi, Karnataka and Andhra Pradesh also join the two states to export Totapuri mangoes in large numbers.
Kesar Mango:
The pride of Gujarat, Kesar mango, ranks second in terms of mangoes exports from India. Kesar mangoes are small to medium in size with a roundish shape and a distinctly curved tip. They are also known as Gir Kesar because they are grown in a specific geographical region around the Gir forest.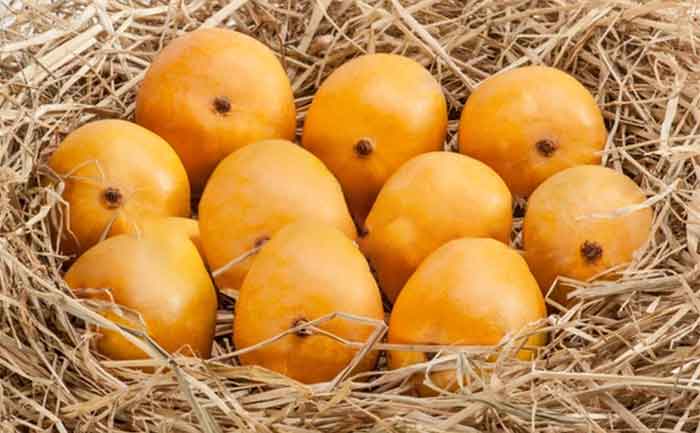 Kesar mango is an intensely sweet fruit that is simply satisfying to consume. Kesar is a trustworthy variety of mango and that is why it can be found on sale in the supermarkets of eastern countries rather than only in Asian groceries stores. The largest exporter of Kesar mango is the state of Gujarat followed by Maharashtra and the mangoes are exported majorly in the United Kingdom followed by the USA, Germany, France, Netherlands, Canada, Kuwait, etc.

Badami Mango:
 A cousin to Alphonso, Badami mango is an exquisite fruit that is almost similar to that of Alphonso. What sets this variety of mango apart from the other is its unpredictability. Every Badami Mango tastes different in flavour. Badami Mango is inedible if plucked too early & it turns mushy if plucked too late. But when the time is just correct, it's a delightful fruit, bursting flavour in a lovely golden colour.
Badami mango is exported to countries like Saudi Arabia, UAE, Germany, Singapore, UK, Qatar, Italy, Kuwait, France, Bahrain, Italy, Kuwait, Germany, Singapore, and many more in large numbers.
Banganapalli Mango (Safeda):
Majorly cultivated in the state of Andhra Pradesh, Banganapalli Mango is also known as the king of mangoes in the Southern part of India. These mangoes have a pleasant aroma and are thin blemish-free skin. Banganapalli Mangoes comprises fibre-free sweet yellow pulp which is automatically a preferred choice for people who don't enjoy fibrous textures in their fruit.
The states of Andhra Pradesh, Maharashtra, Tamil Nadu, and Karnataka are major exporters of Banganapalli Mango and export to countries like Qatar, Switzerland, Hong Kong, Canada, Norway, Bahrain, USA, Singapore, New Zealand, Netherlands and many more.
Rajapuri Mango:
The larger size and sweet flavour of Rajapuri mangoes is its distinctive feature when compared to other mango varieties of India. Rajapuri mangoes are commonly used to create various mango-specific products.
The major exporter of Rajapuri mangoes are the states of Maharashtra, Karnataka, Gujarat, Kerala & Haryana and these mangoes are exported to UAE, Kuwait, Canada, UK, Germany, France, and many other countries.
Green Mango:
The mangoes which are raw and aren't fully developed are known as Green mangoes. These mangoes are available during all 12 months of the year. They are picked when just mature and are sharply sour in flavour. Green Mangoes are exported mainly from the states of Kerala, Gujarat, Maharashtra, Tamil Nadu and Karnataka. Whereas, Oman is the largest importer of Green mangoes from India. Other than Oman, countries like USA, UAE, Saudi Arabia, Bahrain and Qatar too, import Green mangoes from India.
Alphonso Mango:
Finally, we come to the exotic variety of mango which is said to be the King of Mangoes. Alphonso Mangoes also known as Hapoos are only grown in the districts of Devgad and Ratnagiri which are part of the Maharashtra state in western India. One of the most expensive varieties of mangoes, Alphonso Mango is considered best in terms of sweetness, richness and flavour.
India has no competitor country across the globe when it comes to exporting Alphonso Mango due to its agronomic and climatic characteristics. And that is the main reason India has been the leading exporter of this exotic fruit to the countries like Germany, Saudi Arabia, Kuwait, UAE, Netherlands, China, UK, Japan, Singapore, Sudan, USA and many more.
But have you ever wished to get the fresh, deliciously juicy Alphonso Mangoes delivered directly to your home without going anywhere? We know you must have wished for it at least once. Don't worry, we have the perfect solution for you in Aamwalla.
About Aamwalla:
Aamwalla specializes in fresh, organic and export quality Alphonso mangoes that are sourced and procured from the farms in Devgad which is also known to be the mango capital of India. The mangoes come with the Aamwalla promise of quality, taste and super smooth home delivery to the comfort of your home.