6 Amazing Benefits Of Eating Organic Mango for Skin
Organic farm fresh mangoes are rightfully known to the king of Indian fruits. These aromatic, nutritious, pulpy summer fruits have some amazing health benefits alongside having a great taste. Mangoes are cultivated more than around in 100 countries and Indian grown fresh mangoes have a great demand in the global market. Indian varieties such as Alphonso(Hapus), Langda, Kesari, Badam, Dasheri including few others are worldwide popular. Indian grown mangoes are especially known for their sweetness and luscious texture. Many people love eating mango because of its taste, but did you know that you can healthify your skin by consuming them? If you didn't know the skin benefits of eating organic mango, then you have stumbled upon the right place. Take a plate full of mango pieces and keep reading until you finish it off.
Check out how mangoes help nourish the skin:
1. Mango Reduces Sun Damage:
Including mangoes in the diet is a great way of adding extra nutrients. Mangoes are known to be loaded with antioxidant that helps healthify the skin. These antioxidants help in protecting the body from cellular damage. These summer fruits are high in vitamin C, the content that helps in preventing sun damage and premature aging. Mangoes may also be able to hydrate your skin when applied topically.
Here's a quick face pack for you:
Mix mango(any type Alphonso, Dasheri or Kesari) pulp with a teaspoon of organic honey and a tablespoon of milk. Mix these ingredients nicely and let them rest for five mins. Apply the mixture onto your face and clean it after 10 minutes with normal temperature water.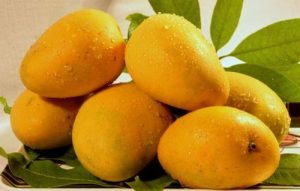 2. Mango Helps In Reducing Acne:
Mangoes are one of the best alternatives in keeping acne away. Its nutritional composition helps in preventing acne breakouts in the skin. Mangoes are high in magnesium that helps in reducing oil content preventing the formation of acne and rosacea. The beta-carotene content inside the mango has an anti-bacterial action and it also protects skin against various toxins as well. However, you need to eat it in a moderate amount. A lot of people end up getting summer acnes after eating the extra amount of mangoes. The increase of heat in the body leads to promoting acne further. Mangoes are known to be great detoxifying fruits and whenever consumed in great amounts they might show up the signs such as acne or extra sweating.
3. Mango Reduces Risks Of Skin Cancer:
Mangoes have Polyphenols elements that are naturally synthesized by plants. The Polyphenol in mango is called mangiferin and this acts as an antioxidant. Mango kernels, seeds, and peels contain the highest concentration of mangiferin that helps in reducing the risk of a few types of cancer including skin cancer. The leaves, stalks, and bark of mango plants also contain high levels of this natural chemical. Medical researches have apparently shown that mango holds up fairly well in anticancer activities. So make sure to eat organic farm fresh mango during summers but in a moderate amount.
4. Mango Helps In Treating Dry Skin:
Mango fruit apparently is known for making the skin glowy. The natural nutritional composition in these aromatic fruits helps in making the skin smooth. Mangoes are loaded with beta-carotene and Vitamin A, these are strong anti-aging effect chemicals that boost the health of the skin. It treats dry skin and helps down collagen formation. Mango extract is a wonderful ingredient to include in products that will help to prevent dry skin because they are packed with cleansing, astringent properties. 
5. Mango Clears Blemishes:
Often we end up struggling to remove the spots left behind by acne. These are caused because of the damaging sun rays that further dulls your skin out. It is important to get rid of these blemishes in a timely manner. Mangoes can come to your rescue during summers. These luscious fruits can aid in removing the blemishes quickly and helps you get clear skin.
Here's a quick mango face pack for you:
Take half mango pulp in a bowl, add two tablespoons of gram flour, add two teaspoons of ground almonds and lastly add a teaspoon of honey. Mix all the ingredients nicely and form a thick paste. Apply it all over your face and area wherever you have heavy blemishes. Let the pack rest for 15-20 mins and rinse it off with cold water once it's dry.
7. Mango Promotes Collagen Production:
Collagen is the most abundant protein in the human body, which is found in the bones, muscles, skin, and tendons. This substance holds the body together and collagen is known to provide strength and structure to the body. Boosting the production of natural collagen in the body crucial. In order to do it, you must eat organic fresh mangoes. Mango is high in vitamin C, which promotes healthy hair and skin. These vitamins are essential for making collagen, as it gives your skin its bounce and combats sagging and wrinkles.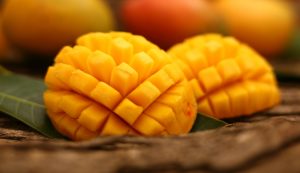 Did you find the above information helpful? Do not forget to write back to us. You can get your hands on organic and farm-fresh Alphonso mangoes on AamWalla.com.