Best Ways To Consume Mango- Salads, Drinks And Desserts
Mangoes aka Aam are all around us and there's no way we can escape from these luscious, attractive fruits and aroma-filled fruits. The Indian farm-grown, juicy and tasty Mangoes are one of the most consumed varieties in the world. Alphonso (Hapus), Devgad, Ratnagiri, Badami, Chaunsa, Langda, Kesari including others are most popular across the globe. While summers being around grabbing your hands on farm-fresh mangoes becomes a challenging task. However, you can avoid the hassle simply by buying them online on websites such as AamWalla. Thanks to the digital evolution-you can easily get home deliveries of chemical-free, organic mangoes from the farms to your doorsteps. These pulp-rich fruits can be consumed in a zillion different ways. Mangoes are such fruits we often end up buying extra because their availability restricts to only summer seasons. To make the summers more memorable you can consume them through salad, juices, desserts or ice-creams. Here we take you through some interesting ways of eating Mango. Only mothers would know the importance of presenting fruits in different forms to their naughty kids!
Interesting Ways Of Eating Fresh Mangoes:
Tips To Add Mango In Meals:
Breakfast: Spread the diced mango pieces over a waffle or the pancakes and present it stylishly
Smoothies: Make a delicious mango smoothie. Mix the mango pieces with yogurt or milk. You can add honey for taste and ice cubes. Blend it nicely and garnish with some more mango slices
Roll-ups: Slice mango into thin strips. Roll them up with a slice of deli meat, such as ham or turkey. You can add other vegetables as well (such as cucumber)
Mango Splash: Having a color splash on boring meals is always a good idea. Give any meal a taste and color with sweet-bright and aroma-filled mango slices. Drizzle mango puree over grilled or sautéed chicken or grilled fish and this will make you addicted to the dishes. You can also toss mango chunks into a fruit salad or a green salad
Mango Maniac: Chop the mango into small pieces. Mix them with vanilla frozen yogurt. Scoop into a ball, top with mango puree, and garnish with mango chunks skewered on toothpicks
Mango Desserts:
Easy Mango Mousse:
Take cream in a bowl. With an electric beater beat the cream until you see soft peaks in it
Ensure you don't over whip the cream
Add the mango puree to the beaten cream
Fold gently to combine the mango puree with the whipped cream
Pour or spoon the mango mousse in small shot glasses or bowls and garnish for the serving
Mango Pudding:
Dissolve a packet of gelatin in boiled hot water.
Stir in some sugar and a pinch of salt.
Add in the milk or cream.
Mix in the mango puree.
Pour the mixture into 4 ramekins or small bowls.
Cover with saran wrap and chill in the fridge for 2 hours or until set. Garnish with coconut and mango slices before serving.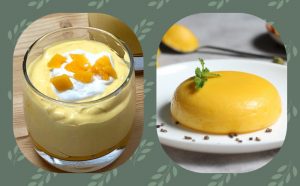 Mang Drinks:
Mango Mastani:
Wash mango thoroughly and chill
If using organic mangoes, then you can use up the skin for added fiber
Cut the mango into cubes and add them to a blender
Pour the coconut water or orange juice, also add some water
Put in the other ingredients if using like ginger and mint
Blend until smooth texture
Mango Lassi:
Take a cup of fresh yogurt
Slice the frozen or chilled mango
Mix mango slices and yogurt, mix it well in a blender
Add sugar/ honey and a little amount of water for serving
Add ice cubes while serving
Mango Salads:
Simple Mango Salad:
3 Ripped mango, Alphonso recommended, peeled and thinly slice the mango into french fries-like shapes.
1 red bell pepper, thinly sliced.
1/4 red onion, thinly sliced.
1/4 cup fresh basil, thinly sliced.
1/4 cup fresh cilantro, roughly chopped.
Mix all the ingredients and garnish with lemon before serving
Mango Salsa:
1

ripe mango

peeled and cut into small cubes

1/4

cup

red bell pepper

cut into small cubes

1/2

cup

cucumber

peeled and cut into small pieces

1

Tbsp

jalapeno

seeded and minced

1/4

cup

fresh cilantro

finely chopped

1

Tbsp

lime juice

1/4

tsp

cumin seed powder

1/4

tsp

salt

adjust to taste

Mix all the ingredients in a bowl and drizzle a pinch of salt, cumin powder, and lime juice. Mix it well and let it rest for 5-10 mins for good taste.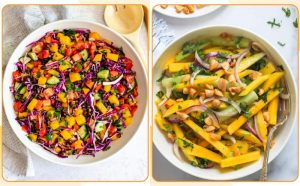 Which one are you going to try first? Do let us know. To get your hands on farm-fresh Alphonso mangoes, feel free to connect to AamWall.com