Five Easy and Delicious Mango Juice Recipes
Mango juice is one of the most popular and tasty delights that you can make at home. This nutritious juice is high in essential micronutrients, which strengthen your immune system, boost your energy, and help you lose weight.
Of course, full mangos contain all of these nutrients, you may increase the health benefits of mango by varying the ingredients and cooking process. However, if you do not consume mango juice correctly, you may gain weight and develop stomach problems.
Reasons why you should try these finest Alphonso mango juice recipes.
Mango Juice Recipe
Do you need a pick-me-up when you're feeling down? Good news: this quick and easy mango juice may be just what you're looking for!
A delicious and wonderful farm fresh mango shake is promised when freshly Alphonso mango is combined with fresh lemon juice and coconut water. Make sure to fuel up on this healthy mango juice as the weather starts to warm up.
Ingredients:
12mint leaves
1 cup coconut water
16 oz mango
1 tsp lemon juice
2/3 cup water
2 cup ice
Instructions:
Process mangos, mint, and water in a blender.
Strain the mango purée through a fine sieve.
Whisk the filtered mango juice with coconut water, sugar, and lemon juice.
Garnish with more mint if desired. Pour over ice cubes and serve.
Also Read: Fresh Mango Juice: Know The Health Benefits Of Consuming It
Mango Orange Juice
This mango orange juice recipe just calls for four ingredients yet yields a very delicious and healthful drink. You'll just need a few minutes to get a drink that will keep you going on hot summer days.
Ingredients:
16 oz mango
1 cup ice
1 cup water
12 oz orange
Instructions:
Add mango and water into a blender and blend until pureed.
Strain the mango through a fine sieve to remove fiber.
Add orange juice and serve it chilled with ice cubes.
Pineapple Mango Juice 
This pineapple mango juice is rich, creamy, and smooth, and it gives you a real energy boost. It's designed for lazy mornings when you want something quick and easy with minimum mess and delicious tastes.
Ingredients:
8 oz mango
16 oz pineapple
1/2 oz ginger
1 cup ice
1 oz lemon juice
Instructions:
Run mango, pineapple, and ginger through a juice.
Whisk the mixture with lemon juice.
Serve it chilled with ice cubes.
Mango Passion Fruit Juice
This mango passion fruit juice is sweet and gently tart, with a tropical twist. With only six ingredients, it's made simple.
Please keep in mind that the passion fruit has already provided enough tartness for the drink.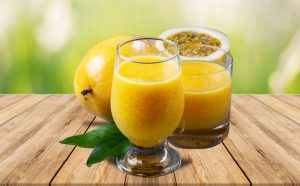 Ingredients:
6 oz passion fruit
12 oz mango
3 tbsp sugar
3 cups water
1 cup ice
1 tbsp lemon juice
Instructions:
Place the mango slices and water in a blender. Mix until smooth.
Strain mango through a fine sieve. Add sugar, lime juice, and passion fruit into the juice mixture.
Serve the mango passion fruit juice with ice cubes.
Mango Carrot Juice
Mango carrot juice is produced from entire fruits and is high in vitamins and minerals. It's a great way to start the day, so let's prepare a huge batch to last us a week.
Ingredients:
12 oz mangos
1 tbsp lime juice
1 tbsp sugar
3/2 cup water
4 oz carrot juice
Instructions:
Process mango and water in a blender until smooth.
Strain the mixture through a fine sieve.
Whisk the filtered mango juice with carrot juice, sugar, and lime juice.
Serve with ice cubes.