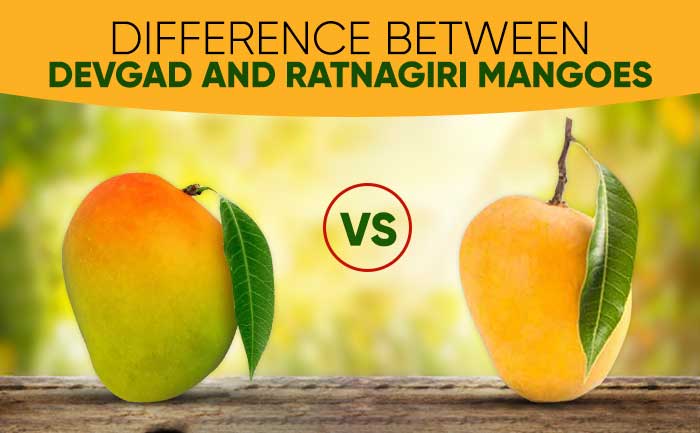 What's The Difference Between Devgad And Ratnagiri Alphonso Mangoes
Mangoes have always enjoyed human attention and craving. Over the centuries, these fruits have earned a distinguished position among the fruits and they pretty much rule the roost when it comes to comparison with other fruits. One reason behind this is that mangoes have a lot of variety; they grow almost all over India. And, since India boasts of highly diverse geography and climate, it naturally gives a distinctive character to the mangoes that grow in different regions. Alphonso mangoes are a variety that is unanimously loved by all. However, Alphonso mangoes too are classified into Devgad mangoes and Ratnagiri mangoes. Both these varieties are grown in western Maharashtra.
Why Devgad mangoes and Ratnagiri mangoes are so special?
As their names suggests, Devgad mangoes are grown in the Devgad district and Ratnagiri mangoes are grown in the Ratnagiri districts of Maharashtra. Both the regions are located 100 kilometers apart but, there are very different from each other. The location, soil, topography, weather, and of course generations of knowledge about their mango make them unique. The mangoes grown in Ratnagiri and Devgad are protected by GI (Geographical Indication), legally no other Alphonso mangoes can masquerade as the Alphonso grown here.
What is the difference between Devgad and Ratnagiri mangoes?
Well, both the varieties can be differentiated on 4 lines:
Colour and skin: The Ratnagiri mangoes have shades of saffron colour, while Devgad mangoes have a combination of yellow and orange. The Ratnagiri Alphonso also has a soft outer covering and that's the reason they're more prone to getting wrinkles when they ripe, taking away their aesthetic look. However, the Devgad Alphonso has a stronger and thicker coat. Hence, they're less prone to getting wrinkles.
Weight, shape & size: Ratnagiri mangoes are a bit smaller than Devgad mangoes. As far as the shape is concerned, both the varieties are oval in shape. Even they weigh almost the same. So, by weight or shape you may not be able to compare, but size is the differential factor.
Taste & aroma: Ratnagiri mangoes acquire the taste a little earlier before they ripe. Devgad mangoes have a pleasant fruity smell and a sweet taste sans fiber. Devgad mangoes for this very reason are very popular among the masses. The most amazing thing is that even having wrinkles does not change its incredible taste.
Season: The season for Ratnagiri mangoes starts in early April and can easily last till mid – May. As for Devgad mangoes, the season starts in mid – may and also gets over within a few weeks.
Where should I get the best quality of organic  Alphonso mangoes? 
As we all know, Alphonso mangoes are the finest quality mangoes and bring in a major chunk of revenues since both of them are of export grade. What's even better is that both these varieties are now easily available online. You don't have to go through the hassle of carefully choosing each unit by going to the market as Aamwalla brings a box full of joy in the form of farm-fresh organic Alphonso mangoes to your doorstep.
All you have to do is visit the Aamwalla's site, choose the varieties by size and weight, place the order and we'll deliver the finest quality of Alphonso mangoes to you at lightening fast speed.