Where To Buy Original Alphonso Mangoes From?
Mangoes are the fruits that make summers a gala time. No matter how the heat is outside, mangoes keep the environment at home chill, relaxed, and bring a sense of comfort with them. That is mangoes are also known as the king of summer. When it's about Alphonso mangoes, it becomes a different ball game altogether. Original Alphonso mangoes have a loyal fan following, in fact, it won't be wrong to say that they have cultivated a rabid fan following over centuries. From being grafted by a Portuguese general and military expert, Afonso de Albuquerque to becoming one of India's biggest export resources, Alphonso mangoes have covered a long journey. Earlier there were only two prime varieties of Alphonso mangoes; Ratnagiri Alphonso and the Devgad Alphonso. However, Alphonso mangoes made their way to other geographical areas as well.
Also Read: How To Identify Real Alphonso Mangoes
 But, there's always a pertinent question as to where can buy original and farm fresh Alphonso mangoes?
Well, with the widespread network of supply chains and robust logistics, it has become quite easy to procure mangoes for a consumer. You can either go the old-school way of walking to the marketplace or can order mangoes online. All you need to do is open your laptop or unlock your phone, log on to Aamwalla.com and get the original and organic Devgad Alphonso mangoes delivered to your doorstep.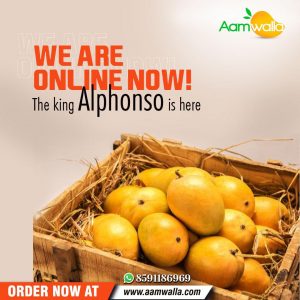 How can you buy Devgad Alphonso mangoes online at a cheap cost?

Well, just visit aamwalla.com, choose the variety of organic hapus mangoes and quantity that you want.
Add them to your cart, enter the delivery address and place your order by choosing your mode of payment and pay securely through the safe and encrypted payment gateway.
Aamwalla will deliver farm fresh organic mangoes from Devgad farms straight to your home in just a few days.
What's more?

You can track the status of your package in real-time and seek assistance from an exceptional customer support team that is always ready to serve you.
In addition, Aamwalla also has an option for corporate gifting as well to help you strengthen your professional relationships and work things around in your favour or to just show gratitude to your business associates.
Aamwalla understands your needs when it comes to mangoes and that's the reason we are considered to be the experts in this domain. So, don't wait any further, order your favourite real Devgad Alphonso mangoes right away and drown yourself in some sweet aromatic indulgence straight from the farms.