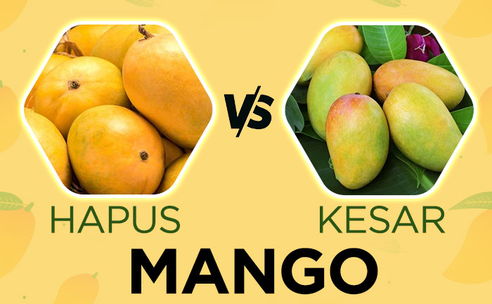 Difference Between Hapus (Alphonso) and Kesar Mango
Those who love mangoes the most would definitely know what are the key differences between mango varieties. India is the land of mangoes having 1500 different varieties and it is also the highest producer of mangoes in comparison with other countries. Hapus (Alphonso), Kesar, Chaunsa, Badam are a few of the most popular mango varieties. Specifically, Hapus and Kesar have high demand in the market because of their extra sweetness, luscious pulp, aroma, and bright colour. Here in this article, we take you through details of what are the differences between Hapus and Kesar mango varieties.
And if you want to get home delivery of farm fresh mangoes, then order it on Aamwalla.com. The website not only gives home delivery of the Alphonso mangoes but also gives fresh and good quality mangoes for a reasonable price.
Difference Between Hapus (Alphonso) and Kesar Mango
| | | |
| --- | --- | --- |
| Qualities   |              Hapus Mangoes |             Kesar Mangoes |
| 1. Taste | These are sharply sweet along with mellow tropical flavours | Kesar mangoes are intensely sweet that cannot fail to satisfy the eater. Its intense sweetness and flavoursome quality attracts people |
| 2. Aroma | Hapus mango offers a natural scent, which makes one believe that it's real and pure Alphonso mango | Kesar mangoes have the aroma of extra sweetness. By its smell, one can tell how sweet it is |
| 3. Size | Usually, these are 14.5 × 9.5 × 4 in size. Each Mango is above 225 to 260  grams in weight | Kesar mangoes vary between 2.5 cm to 30 cm. It weighs roughly around 200-250 gms |
| 4. Shape | Ratnagiri and Devgad Hapus are usually oval in shape | Kesar mangoes are small-sized fruits with a roundish shape and a distinctly curved tip |
| 5. Locations | Popularly grown in Ratnagiri and Devgad regions of Maharashtra | Kesar mangoes are popularly grown in the Girnar region of Gujarat |
| 6. Origin | Alphonso aka Hapus was named after Afonso de Albuquerque, a Portuguese militant, and colonist. These varieties were produced after using grafting technology in India | Kesar mangoes have their origin in Junagadh. Reportedly, these were first cultivated by Junagadh Wazir Sale Bhai in 1931 in Vanthali |
| 7. Flesh | The flesh is non-fibrous and has a smooth texture, unlike some other mango varieties. These are bright yellow in colour when completely ripe | Kesar mango's flesh is a little dull, slightly mottled yellow colour, with a green tinge when less mature |
For more such updates, stay hooked on this space.